Unsurpassed Productivity for Your Business – Without High-Tech Complexity
Modern print technology has made it possible for businesses of all sizes to produce large volumes of high-quality printed material and specialized collateral right in the office. In the past, many print solutions were better handled by 3rd party professional print facilities. However, modern times call for modern solutions. Depending on the size of your office, and your organization's needs, you can bring these printing solutions in-house to optimize your environment.
If you are assessing your current situation, or looking to invest in a production print solution, Ultrex can help you maximize today's production print technologies with peak efficiency and maximum reliability, all from a single source national provider. By working exclusively with Ultrex, you gain real accountability, unquestionable visibility with solutions and services, and results that will truly make an impact.
Ultrex makes its mark
Take a look at our production capabilities
How do we create powerful production print solutions?
Our Production Print Assessment
Regardless of if you have an existing production print environment or are researching the viability of bringing production print in-house, Ultrex discovery process begins with a review of your current production print workflows and processes. The assessment identifies potential factors that affect productivity, turnaround, quality, and total cost of ownership.
Our Strategic Partnerships & Premiere Standings
In order to fulfill the needs of our elite clients with production print devices, Ultrex partners with industry-leading manufacturers that allow us to stay at the forefront of production print offerings. Our advanced standing with these OEMs provides us with priority access to their product lines, resources, and early notifications of new products, device modifications, and firmware upgrades. The manufacturers that we partner with have reputable products and notable longevity in this market.
Our Full Line of Professional Finishing Options

Our full line of document finishing options include inline, near-line, and offline – from cutters, folders, and UV coaters. We have you covered with complete end-to-end document manufacturing to maximize your in-house operations.  Take a look at some of our finishing options here.
Our Relationship with Flex Technology Group
As part of the Flex Technology Group family of companies, Ultrex…
Improved Solutions: our solutions experts fully analyze your business and build an in-depth understanding before developing your customized solution. And being vendor-neutral, we'll base solutions on individual client needs rather than a vendor we're aligned with. Our specialists will objectively match you with the right products and equipment for your business, regardless of make, model, or brand.
Improved Service: our Technicians receive advanced training in a broader range of equipment and issues. This means that they're equipped to quickly identify and resolve your problems, no matter the makeup of your fleet. Our training and service models are backed by a level of consistency that you'll see with each touchpoint.
Improved Response Times: experience enhanced response times so you'll get the service you need as quickly as you need it. Our centralized headquarters manages the dispatch of local technical engineers to the respective locations requesting service. Your service call completion rate will improve by the very first visit.
Improved Reach: FTG's national presence allows us to provide you and your business with the resources and support you need. Our national centralized headquarters manages all service, supply, and billing inquiries for all client locations.
Improved Expectations: We focus on delivering preventative maintenance that's proactive in solving your issues so you can seamlessly focus on your business.
Improved Relationships: Complex support issues may require further OEM collaboration. As a premiere partner, we have already solidified our relationships and can swiftly work as a team to solve them.
Improved Results: We understand that office equipment, software, and technology is an in investment. Increase your ROI by partnering with someone who truly understands the business and can help you drive productivity.
Our Continual Partnership Review Process
Emphasizing our focus on total client satisfaction, FTG guarantees to present clients with an Executive Partnership Review every quarter. Failure to execute an EPR on a quarterly basis will result in a 50% refund of your current quarterly payment.
These EPR's create the baseline for continual process improvements. They ensure that you continuously receive superior service, maximize the capabilities of your production print capabilities, and reinforce a positive return on investment.
Our Production Print Partners
Our focus is on your success.
Production Print Assessment
At Ultrex, we aren't just looking at your immediate needs, we're looking at your future needs. Let us help you get where you want to be. Request your In-Depth Analysis today and we can start working on the best solution for your business.
Our production print solutions can improve your businesses capabilities with options like:
Labels
Direct marketing
Photo publishing
Personalized catalogs
Transactional marketing
Book publishing
Marketing service provider
Package printing
Triggered direct mail
Variable data
Menus
Brochures
Flyers
Postcards
And so much more
Konica Minolta machines have revolutionary color image quality, ultra-high-speed B&W output, and pro-quality inline finishing options  and are suited to fit a wide range of printing needs.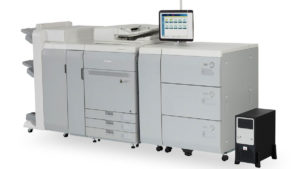 Canon's production print finishing processes has a wide variety of finishing options for the entire end-to-end configuration of cutters, stackers, saddle-stitchers, and more.
Ricoh has a total print solutions with everything from packaging and delivery. They combining offset and digital printing to best meet your needs and the needs.
Not sure where to start?
Our Solutions Team is ready to provide you with the highest degree of expertise available coupled with superior customer service. We will see to it that the solutions your business needs are properly integrated in the most cost-effective way possible. Simply fill out our contact form and we can start working on a customized solution for your business.